12 Colors Sharpenable Matte Lipstick
Creates a bold and sensual voluptuous look for the lips while enhancing their natural beauty.


WATERPROOF & LONG LASTING -It is naturally waterproof and lasts up to 6-8 hours without leaving marks on clothes, cups, or lips. Moisturizes lips while maintaining vibrant color for up to 6 hours without drying.


Health & Safety-Natural ingredients such as natural beeswax, natural beeswax lock in moisture for long-lasting hydration and provides a zero-gravity silky feel. 100% zero cruelty, we are proud to say that we have never and will never test on animals. We also emphasize working with third-party suppliers who have zero cruelty.
Moisturizing & Plumping Lips -  Made with natural botanical extracts that help fade lip lines and keep lips moist, combined with a variety of plumping ingredients to make lips plump and sexy. Prevention protects your clothes and won't come off your lips easily!


Easy to apply & Easy to remove - Easily create instant bold matte lips that last! It comes off easily with makeup remover, no need to worry about pigmentation.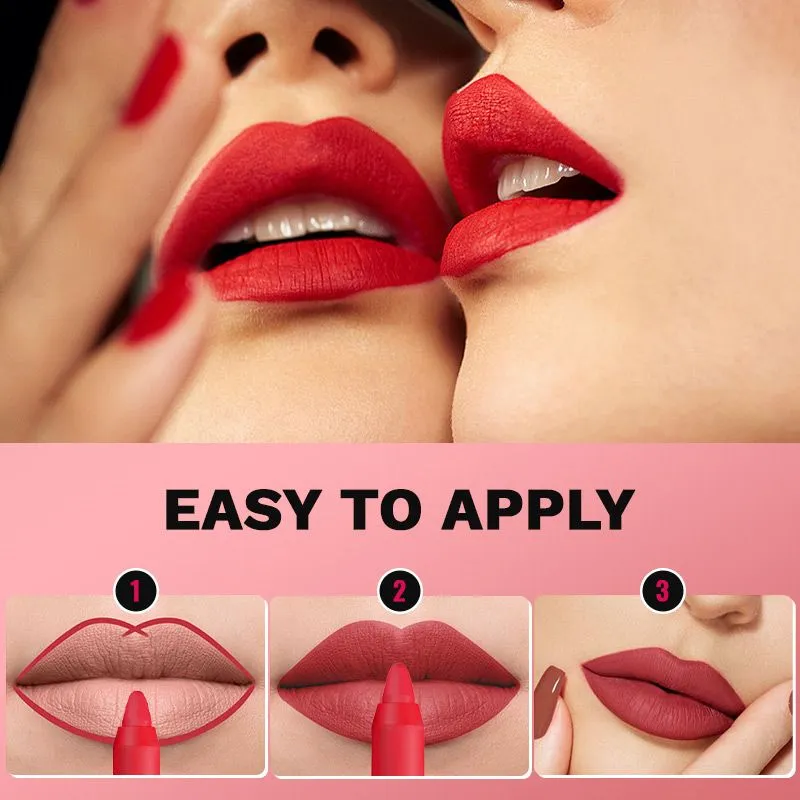 2-in-1 function - both a lip liner and a lipstick, depicting the lip shape while applying color, satisfying all needs. A small design has been added to the bottom, placing the pencil tip on top and gently rotating it to restore the most original tip shape, making it even easier to use!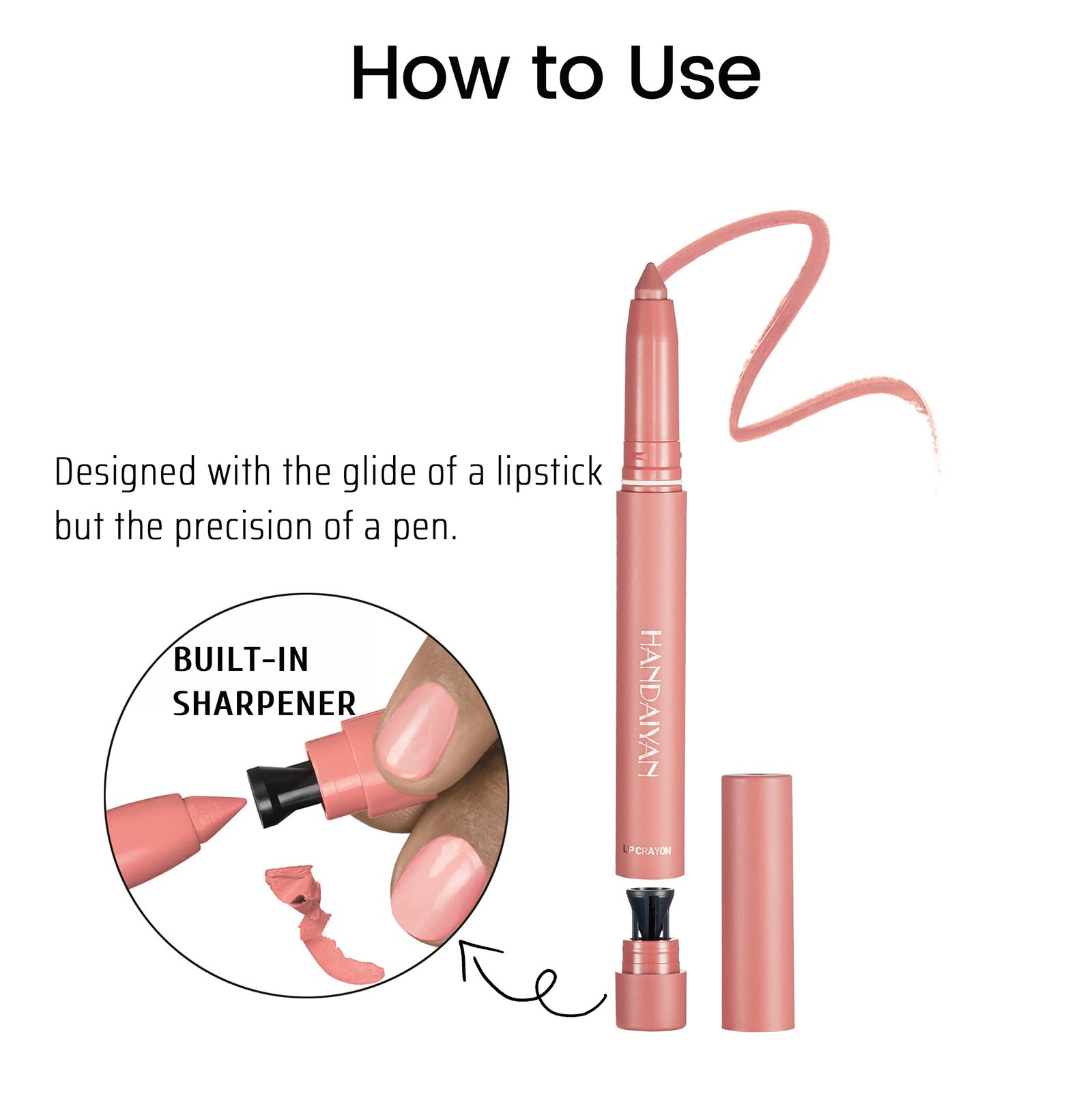 Characteristics:
Wide Color Range: The lipstick set includes 12 different colors, providing a diverse range of options to suit various skin tones, occasions, and personal preferences. The colors may include shades of red, pink, nude, berry, plum, mauve, and more.

Matte Finish: The lipstick formula is designed to provide a matte finish, which offers a velvety and non-shiny appearance. The matte finish gives a sophisticated and modern look to the lips.

Intense Pigmentation: These lipsticks are highly pigmented, offering rich and vibrant color payoff with just one swipe. The intense pigmentation ensures that the lips are beautifully colored with a bold and noticeable hue.

Long-lasting Formula: The lipstick is formulated to be long-lasting, allowing it to stay put for an extended period without the need for frequent touch-ups. This characteristic makes it ideal for all-day wear, special events, or occasions where you want your lip color to stay intact.

Sharpenable Design: Unlike traditional twist-up lipsticks, this product features a sharpenable design. Each lipstick comes with a plastic or metal casing that can be sharpened to create a precise and defined tip, making it easier to apply the lipstick with precision.

Smooth and Creamy Texture: The lipstick has a smooth and creamy texture that glides effortlessly on the lips. The creamy formula helps to moisturize and hydrate the lips, preventing them from feeling dry or uncomfortable.

Blendable and Buildable: The lipstick can be easily blended and layered to achieve the desired intensity. This allows you to create custom shades by combining different colors or adjusting the opacity by layering the product.

Easy Application: The lipstick is designed for easy and smooth application. The shape of the bullet and the creamy texture ensure that the lipstick glides on the lips without tugging or pulling, providing a comfortable and seamless application process.

Portable and Travel-friendly: The lipsticks are usually compact and lightweight, making them suitable for carrying in your purse or makeup bag. The portable size allows for touch-ups on the go, ensuring that you can maintain your desired lip color throughout the day.

Suitable for Various Occasions: The versatile color range of the lipstick makes it suitable for various occasions and settings. Whether it's a casual outing, a formal event, or a night out, you can find a shade that complements your look and enhances your overall appearance.

Guarantees
Clean Skincare
Clean and natural skincare with safe and transparent ingredients
Fast Delivery
Fast delivery options with tracking